Should I stain my fence?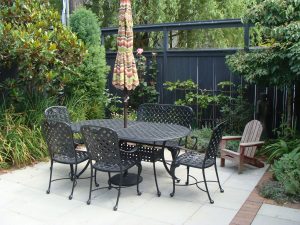 By Seattle Landscape Architect Brooks Kolb:
Clients often ask me, 'what should I do about my fence?' I always tell them, stain it or paint it a dark, warm color, such as dark warm gray, charcoal, deep olive green, or even black. The green foliage and vibrant colors of plants really "pop" against a dark background, and after all, the goal with a garden design is to give you lovely plant massings to look at, rather than acres of fence. The subject comes up regularly, though, because typically builders of new homes and fence contractors alike leave a brand new fence or deck with no stain. I can't tell you the number of times I've seen brand new houses, beautifully painted or stained, with un-stained decks sticking onto them like a sore thumb. The thought that people have, if there is one, is that the goal is for that unstained wood construction to dry to a beautiful silver. Unfortunately, that never happens unless your home is at the seashore where you have plenty of sun, wind and especially salt air to weather the fence. In town, unstained fences only turn a mottled gray and brown, and the pressure-treated posts change color at a different rate Super Jack.
Moreover, decks should be stained or painted a dark color so as to reduce glare. With light-stained decks, the sun bounces off the horizontal surface, causing annoying glare. Additionally, light-stained decks reveal all the inconsistencies in the wood grain, while dark decks tend to hide those imperfections.
Stain is recommended over paint because paint can flake off over time. Cabot has a good line of "semi-solid" stain colors. Semi-solid stain is ideal for most fence and deck stain projects because it absorbs into the wood grain more than semi-transparent, meaning that you don't have to re-stain as often. At the same time, it is less likely to flake off than solid body stain, which behaves a lot like paint. Normally you need two coats, and you need to apply it only when you're confident to have four or five days of dry weather after the stain is applied. The good news is that you can now get latex stain, rather than oil-based, which makes it easier to apply and wash up afterwards.