Hellebores – Harbingers of Spring in the Pacific Northwest
by Seattle Landscape Architect Brooks Kolb
It's been an especially wet and cold winter in the Pacific Northwest, but we're finally beginning to see the first signs of spring.  Winter-blooming Witch Hazels and Camellias have already finished flowering, and now is the time for Hellebores to take center stage.  No Hellebore species is more popular than Helleborus orientalis.  Known as "Lenten Rose" for the time of its bloom period, this Hellebore has already been blooming for several weeks and it should continue through at least the end of March.  Depending on the exact variety, its pale flowers on narrow, foot-high stems in shades of pink, purple, magenta, cream and chartreuse look like they were painted in watercolor washes.   It's nice to plant massings of all-white varieties, but deep pink ones like 'Pink Frost' are also attractive.  It's easy to find them in batches of mixed hybrids if you want random samplings of the entire color range in a single planting bed.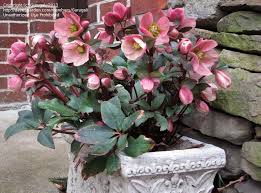 Helleborus orientalis 'Pink Frost'
Among the other species, Helleborus niger ("Christmas Rose") looks very similar to Lenten Rose except that its leaves have no obvious stems, while H foetidus ("Bears's Foot hellebore) has strikingly narrow leaves.  But, apart from Lenten Rose, the other species I like to use in my designs is the Corsican Hellebore (H. argutifolius.)  This one is much taller and wider, to about 3 feet tall and 3 feet wide, with tough, leathery mint-green leaves and large, showy chartreuse flowers that bloom in February and hold their blooms until you finally decide to cut them off in early summer.  The Corsican Hellebore is a great ornamental evergreen  shrub for partly shaded spots in the garden and is a good selection for the back or middle of a garden bed, with the lower Lenten Roses occupying spots below it in the foreground.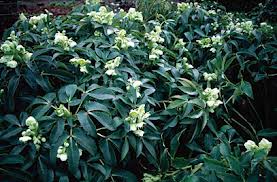 Helleborus argutifolius