Starting a Garden on a Budget Can Be the Best Retirement Activity
By Carrie Spencer, Garden Writer,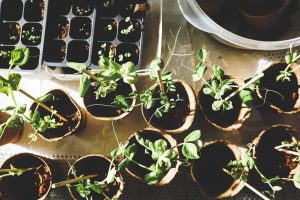 for Seattle Landscape Architect Brooks Kolb
carrie@thespencersadventures.net
Seniors with an inordinate amount of free time after retirement are wise to spend it in productive and enriching pursuits. Undoubtedly high on the list of such worthwhile activities is gardening, as its well-known benefits are varied and plenty. Research shows that it's a hobby that can help you live to be 100, as it offers you regular physical activity and copious amounts of outdoor time. Moreover, it's wonderful for your mental and emotional well-being.
Your garden also has the potential to yield fresh food that can contribute to keeping your diet a healthy one. The best part is, it's an activity that's quite cost-effective and may even save you money in the long run. So, without further ado, let's take a look at how you can start.
Do Your Research
No doubt, your road to a green thumb starts with due diligence since gardening has a great many nuances you'll need to learn from the ground up (pun intended). These are largely reliant on where you are geographically speaking, what kind of garden you want to grow, and even how much time and effort you can put into it.
Luckily, there's plenty of guidance — often for absolutely no cost — that you can find after a quick search online. For instance, if you live in a city, you may want to find out how you can grow a small garden despite space constraints, which, in turn, can give you that much-needed connection to nature. Or, if you're looking to grow a vegetable patch, research will help you determine which vegetables are best in your area as this will ensure that you don't waste money on the wrong seeds and time on the wrong methods.
Stock Up on Supplies
Of course, you'll need to invest in the appropriate garden tools to help you with your initiative. This will run the gamut from trowels to shears, from gloves to wheelbarrows. It also goes without saying that you'll need to know how each one is used in your gardening efforts.
Now, you can easily buy the gardening tools that you need, even when you're working on a budget. Ditto with supplies like fertilizer, mulch, etc. When you're pinching pennies, it's definitely a great idea to buy gardening implements from retailers like Target, which often has deals on already-discounted items. You can even save more when you take the time to search online for promo codes and cashback offers that you use for additional discounts.
Starting a garden will be hard work and will require an investment, but the fact is, the return on investment you can expect can't be beaten. At the very least, growing your own food will ultimately translate to savings toward your food budget, while you get to ward off unwanted medical bills as you eat and stay healthy. More than enough reasons to get your garden started, yes?
Are you a Seattle-area homeowner looking for sustainable garden design services? Connect with Seattle Landscape Architect Brooks Kolb! Call 206-324-0858 for a free consultation.
Photo via Pexels.com