25,000 Daffodils for Seattle's Volunteer Park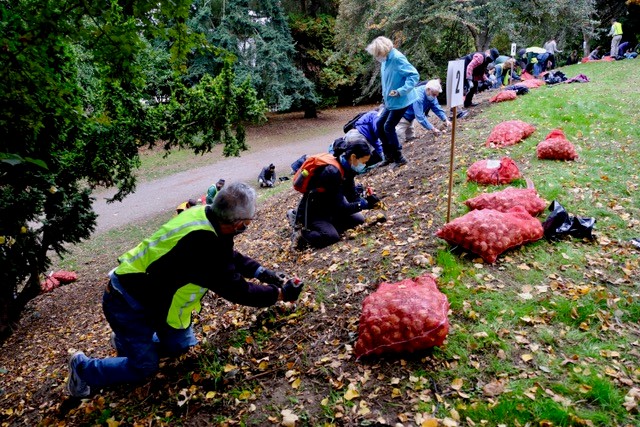 In his role as chair of the landscape committee of the Volunteer Park Trust, Seattle landscape architect Brooks Kolb recently co-led a volunteer effort to plant 25,000 daffodil bulbs on the western slopes of Volunteer Park.  Installed on October 9 and October 23, 2021 in tribute to Volunteer Park Trust founding chairman, Doug Bayley, the yellow and white blooms will bring light and life next spring to a shady and under-used part of the park.  Brooks picked out five varieties of daffodils at Roozengaarde Bulbs in Mount Vernon Fresh Daffodils (tulips.com) for extended bloom period and varying heights.  The bulbs were planted by more than 100 volunteers at ten "stations" along the western path of the park between East Prospect Street and East Highland Drive.  Each station received drifts of two contrasting varieties, drawing one's eye gradually to the next drift along the path.  The effect we were going for is a loose pattern that could be described as 'studiedly random.'  We can't wait to see how these hosts  of yellow flowers will lift the spirits of park visitors next spring!
Many thanks to the many friends of Doug Bayley who raised funds for the daffodil purchase and to Volunteer Park head gardener Jesse Bonn.  For more information about how the Volunteer Park Trust is working to preserve and enhance the jewel of Seattle's system of Olmsted Parks and Boulevards, please visit Volunteer Park Trust – Preserving and enhancing Seattle's Volunteer Park.
Brooks Kolb with Doug Bayley
Planting the Slopes on October 9, 2021